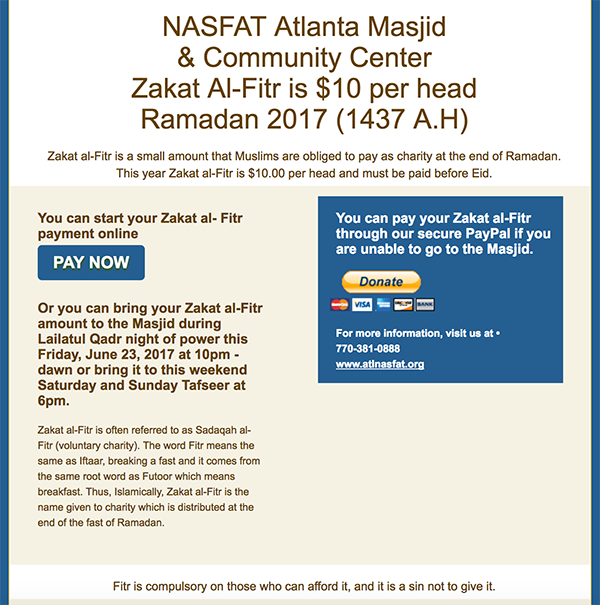 EID PRAYER INFORMATION! EID ANNOUNCEMENT!
Eid Al-Fitr is on Sunday June 25, 2017. Eid Salat will be held at different location (if you live close by)
Georgia Islamic Center (Lawrenceville Masjid)
177 Simonton Rd SW Lawrenceville, GA 30046
(770) 339-1122
First Salat: 8:00am, Second Salat: 9:00am
FAIZAN-E-MADINAH ATLANTA
4991 BURNS RD, LILBURN, GA 30047
First Salat: 8:15am

GreenView Madani Center
3455 Greenview Dr. Lawrenceville, GA 30044
First Salat: 8:30am, Second Salat: 9:00am

Masjid Omar Bin Abdul Aziz
955 Harbins Rd, Lilburn GA 30047
First Salat: 8:10am, Second Salat: 9:00am

Masjid Abdullah
805 Dickens Rd, Lilburn GA 30047
First Salat: 8:30am

Dar-ul-Huda
2755 Centerville Hwy, Snellville, GA 30078
First Salat: 8:30am

Darul Arqam Institute
5365 Five Forks Trickum Rd SW, Lilburn, GA 30047
First Salat: 8:00am

Please use the car pool as much as possible.

Click here for other Eid Salat Locations

THEN

Please come join NASFAT ATLANTA, in celebrating Eid ul Fitr, on
Sunday, June 25, 2017
NASFAT ATLANTA MASJID
430 DOGWOOD DR
LILBURN, GA 30047
@ 10AM - 6PM

Eid Mubarak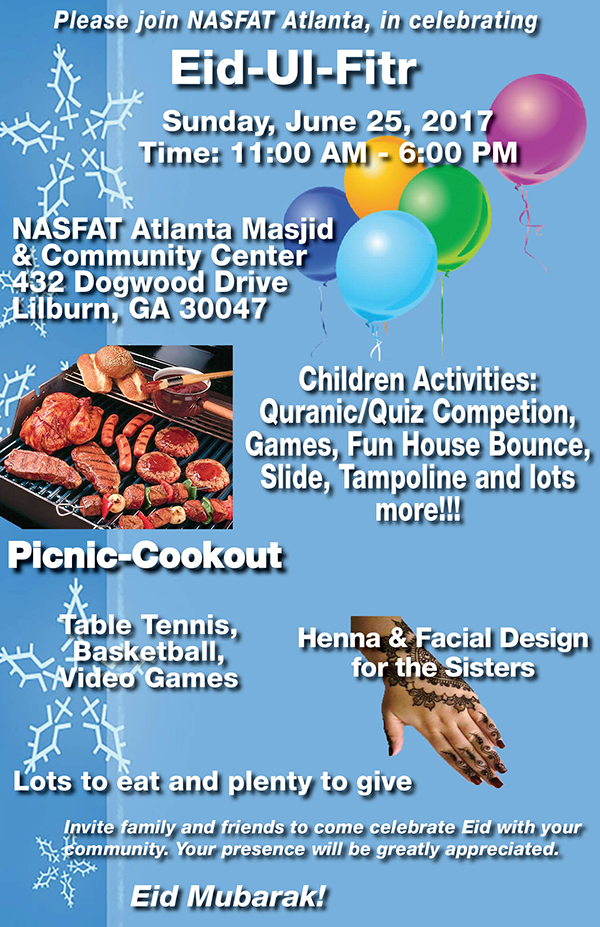 RAMADAN DAY 29 - JUNE 24, 2017
Prophet said: "Whoever performed Salat (pyaers) at night in it (the month of Ramadan) with sincere faith and hoping for a reward from Allah, then all his past sins will be forgiven."
O Allah, on this day, do not condemn me for slips, make me decrease mistakes and errors, do not make me a target for afflictions and troubles, by Your honor, O the honor of the Muslims.
Help Build our Masjid and Community Center!
432 Dogwood Drive, Lilburn GA 30047
$810 raised
Goal: $30,000
Starting on May 27, 2017, if 100 people give $10 each every day in the holy month of Ramadan, will have $1,000 per day. Or you can give $10 a day or $70 a week or $300 a month and in 30 days, we will reach our goal of $30,000. Every day you will receive an email of the donation update, please help us support the project with a donation.
Join the Momentum! DONATE NOW!
Share on with friends, family and Facebook/Twitter.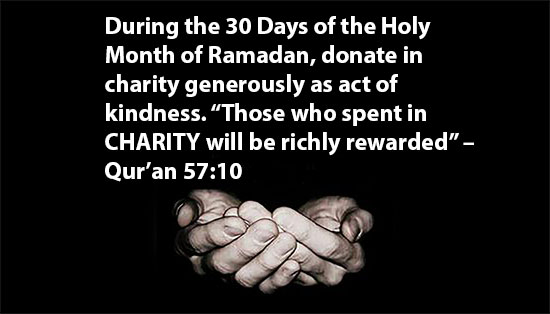 Welcome to Ramadan 2017 (1438 A.H)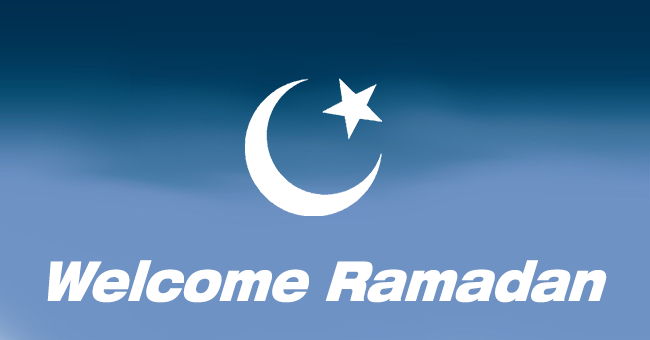 The Holy month of Ramadhan is schedule to begins, Insha-Allah, by May 27, 2017 based on moon sighting.
[Quran 2:185] "Ramadan is the month during which the Quran was revealed, providing guidance for the people, clear teachings, and the statute book. Those of you who witness this month shall fast therein. Those who are ill or traveling may substitute the same number of other days. GOD wishes for you convenience, not hardship, that you may fulfill your obligations, and to glorify GOD for guiding you, and to express your appreciation."
1. ASSALATU PRAYER SESSION: Our regular assalatu prayer will take place every Saturday and Sunday at 6pm during this noble month. This will give all members..
PROGRAMS
Our programs are multi-dimensional and are aimed at the general well-being and development of members and the community at large. The programs can be broadly categorised as spiritual, economic, social and educational.
SUNDAY SERMONS/ASSALATU: 10:00 am - 2:00 pm
ISLAMIC & ARABIC CLASS: 11:00 am - 1:00
DAILY SALAT PRAYERS
FRIDAY SERMONS
RAMADHAN PROGRAMS